Katie Taylor Wins Gold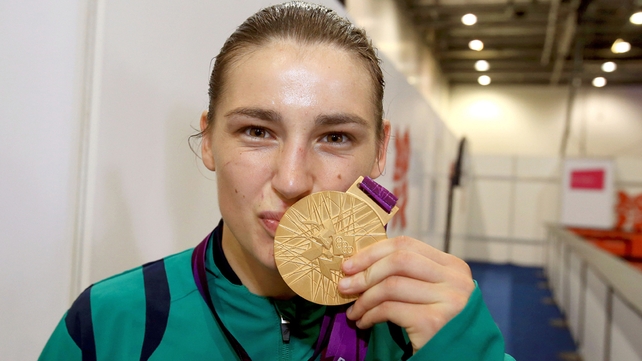 A packed ExCeL arena at the London 2012 saw Taylor defeat Russian Sofya Ochigava. The final result was 10 - 8 to the woman from Bray, Co. Wicklow. The crowd cheered on Katie as she became the first woman to receive a gold medal for Lightweight boxing. The crowd sang Amhrán na bhFainn like never before as the Irish Tricolour was raised in her honour.
Congratulations on the win were given by political leaders today.
An Taoiseach, Enda Kenny, T.D., said "Katie Taylor is not only an Olympic champion, she is a force of nature whose pioneering spirit and boxing brilliance have seen her realise her personal dream of winning Olympic gold."
An Tánaiste, Eamon Gilmore, extended his congratulations to the Bray woman saying "Katie showed true grit and determination in today's bout, and even when she fell behind by a point, she kept her eye on the prize and battled through."
Gerry Adam's Leader of Sinn Fein provided his congratulation saying "comhghairdeas agus gach deá ghuí a chuir in iúil ar an bua iontach a bhí ag Katie Taylor agus í ag baint amach an bon noir sna cluichí Oilimpeacha I Londain" (Congratulations and every best wishes on the brilliant win from Katie Taylor at her gold medal achievement at the Olympic Games in London.)