BBC NI Launches Autumn Line Up
BBC Northern Ireland have announced their autumn line up today, 10th September 2020. They hope to bring some fun and escapism to audiences. Focusing on fresh comedy, light-entertainment and new faces. Shane Todd will cast an eye over the BBC NI archive in Previously with Shane Todd, mentalist Joel Mawhinney is set to uses his skills in Life is Magic and well known faces will be seen on This Sporting Life and Gloria - My Life on TV.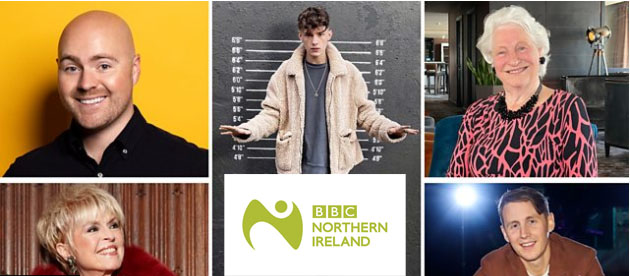 ---
BBC NI comedy will also show case Paddy Raff in a Chirstmas Special to be followed by The Paddy Raff Show. The Blame Game and Give My Head Peace will also return to screen in the Autumn.
Gloria Hunniford will mark her 80th birthday with a special documentry focusing on her life and career, Gloria - My Life on TV.
A new motoring series Tricked-Out Tractors follows a group as they restore vintage tractors. Our Weddings looks back at six decades of wedding days as couples from different generations reminisce about their special day.
The documentry series True North also returns. When Boxing Ends, Restoring Ormiston, Saving The Shipyard, The First Generation and The Disablity Paradox all feature as part of True North.
Eddie Doyle, Head of Content Commissioning, BBC Northern Ireland, says: "In early summer we were able to announce a lot of new commissions that were able to be made safely during lockdown. Many of these were broadcast over the summer months, with entertaining factual formats such as Gardening With Diarmuid Gavin, Suzie Lee: Best Home Cook and the Paddy Raff's comedy pilot performing well with our audiences. We're pleased this also helped support the Northern Ireland independent sector in these uncertain times and that we are continuing to do this with our upcoming autumn schedule of programmes on BBC One NI and BBC iPlayer. It's been a long year, so as we approach the winter months we wanted to provide audiences with content that would bring some humour, warmth, nostalgia and entertainment into their evenings. We're showcasing some great talent to BBC NI audiences in Shane, Paddy and Joel and putting a spotlight on some familiar famous faces such as Gloria and the sporting heroes. The local independent sector has responded well to our call for lighter programmes to help lift people's spirits and across our content this autumn I think we've got a little something for everyone to inform, educate and entertain with a lightness of touch."