RTÉ News Now Exits
As part of the new season on TV RTÉ today drop the RTÉ News NOW brand and replaced it with RTÉ News. The mobile phone application and the linear television channel will now simply be known as RTÉ News. The change took place at Mid-night on the 31st of August. The change is small with a few new features on the News app but the TV channel remains pretty much the same, RTÉ unable or unwilling to change the format of the channel, instead announcing the dropping of a word from one of their brands.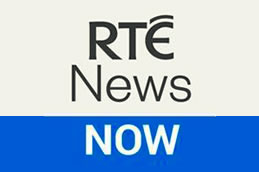 ---
The managing director of News and Current Affairs said on Twitter today
Today we're retiring RTÉ News Now name & uniting brand on air, online & on social RTÉ News. 'News Now' served us well for more than decade. But change designed to make it easier to identify RTÉ News as trusted content, irrespective of channel, platform or medium. We've also given app the RTÉ News a facelift, to give greater prominence to live content & more video. Thanks to colleagues across RTÉ who worked throughout lockdown to make it happen. The name the only thing that changes on TV. Channel numbers for RTÉ News remain the same: • Saorview: 21 • Sky: 521 • Virgin: 200 • eir: 517.