Autumn on RTÉ
With COVID-19 around TV schedules were bound to be a bit bare. Though you might conclude that RTÉ's new season of programmes are as bare as they have been for the past ten years. RTÉ are asking audiences to "Spend Time At Home with RTÉ". RTÉ's soap Fair City is to return to screens with covid-19 guidelines in place, but RTÉ have re-announced drama and scripted comedy that they announced last year, that may not be released until 2021, The South Westerlies, Dead Still and Finding Joy had already been announce in 2019, while Smother is unlikely to air until this time next year.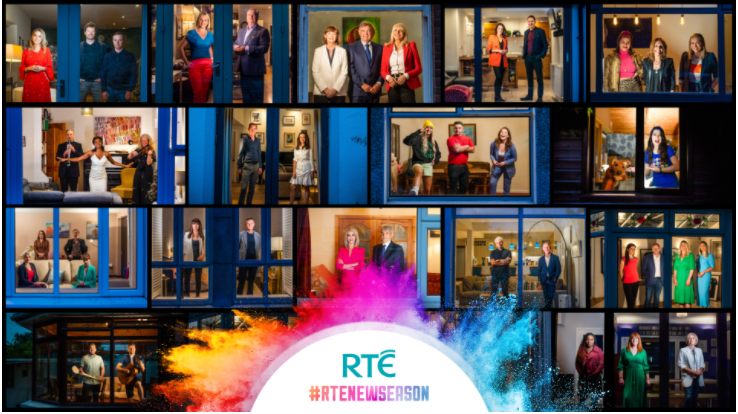 ---
In fairness RTÉ's 2020/2021 schedule was always going to be short on content, but you can't help feeling some sense of deja-vu, while also a COVID-19 pandemic "we have to release something" kind of panic.
As part of the one RTÉ strategy they have announced programming for TV, Radio and Online. Other than online taking both Radio and TV programming there is little crossover for the broadcaster.
It's telling that Radio 1 and RTÉ ONE make up most of today's announcement.
The new season is broken into eight parts, Conversations and Connections, Home Truths, Impact, Sports Fix, Home Entertainment, Shaping our Community, Supporting Artists and Kids.
Conversations and Connections
RTÉ start off with the return of their main programmes on RTÉ Radio 1 and RTÉ ONE. It's the usual set of shows, The Late Late Show, News at One, Ray D'Arcy, The Meaning Of Life, Liveline... with 2FM Breakfast getting a shout out. Other than a refreshed Radio 1 schedule and a new look RTÉ NEWS NOW, there is nothing of note to highlight in this list of conversations that we've connected to before.
Home Truths
RTÉ second strand restates much of what they spoke about in conversations and connections. Six-One is back from holidays as is Claire Byrne, RTÉ Investigates returns, coverage of the US Presidential Election and Children's TV news News2Day.
Impact
Impact focuses on documentary, from the confessional in Sins of Ireland to hurling in Christy Ring: The Greatest. Crime is covered in The Case I Can't Forget and The Real Field. Marian Funucane, Eamonn Casey and Martin McGuinness all feature in biographical documentaries. And plenty of Covid-19 docs with 6 titles announced including A Big Week in September and Future Island.
Sports Fix
Yes we've missed sports over the summer (as have RTÉ), many sports return in October, with The Sunday Game, Women's Six Nations, Euro playoffs, SSE Airtricity League and more. Documentary series New Gaels looks at four GAA players from who began life in different countries.
Home Entertainment
Drama, Comedy and.... lifestyle and not much else. Drama consists of many already announced dramas. Orla Brady, Eileen Walsh and Patrick Bergin star in The South Westeries, Canadian-Irish co-pro Dead Still will at some point air on RTÉ and for some reason Finding Joy has got a second series, at least 3 years after its first. Fantasy Ireland is a new animation set in a fantastical version of contemporary Ireland.
Other drama's include Fair City, EastEnders, Mrs. America, Fleabag and Yellowstone.
Shaping Our Communities
Honestly, reading this you'd think they hadn't already announced lifestyle and much more... DIY SOS: The Big Build, Davy Fitzgerald's Toughest Climb, My Uni Life, Return to the Wild, Francis Street Photographer, Incredible Homes, Home Rescue and The Zoo all return.
Supporting Artists, Supporting Us..
The Shine concert starts the new season off next Saturday, that's followed by Culture Night, The Works Presents and Spoke Stories about Ireland's War of Independence.
And then Kids...
Under 6's see Hungry Bear Tales, Body Brothers and Bright Sparks, while for older kids on RTÉ2 (... don't mention TRTÉ) have Dorg Van Dango, Squad Goals, Ace My Space, Gamer Mode and Blasts from the Past. While young teens can look forward to Growing Up at the End of the World (wow... that sound as depressing as this new season.)