Mairead McGuinness EU Commissioner Designate
The president of the European Commission, Ursula von der Leyen, has chosen Mairead McGuinness to join her cabinet. This follows the nomination by the Irish Government of McGuinness and Andrew McDowell for the role. von der Leyen interviewed both candidates on Monday, 7th September 2020. She said that both showed great commitment to the EU. She has now proposed McGuinness for the post of Commissioner, in charge of financial services, financial stability and the Capital Markets Union. Latvia's Valdis Dombrovskis will become the EU's Trade Commissioner.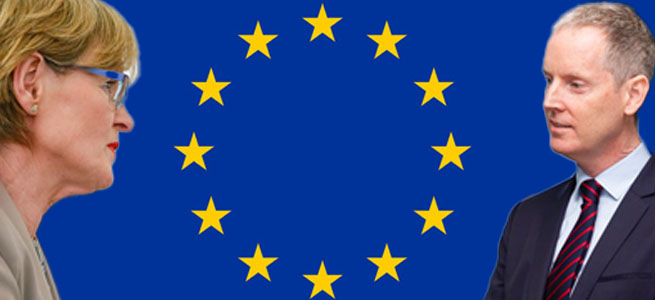 ---
On the appointment von der Leyen said:
"Ms McGuinness has significant political experience on EU issues, having been an MEP since 2004 and currently holding the post of first Vice-President of the European Parliament. This experience is crucial in carrying forward the EU's financial sector policy agenda and ensuring it supports and strengthens the Commission's key priorities, notably the twin green and digital transition.I would like to express my thanks to Mr McDowell for his application and wish him well in his future endeavours."
On her appointment as Commissioner-designate McGuinness said:
"I want to thank President von der Leyen for the trust she is placing in me. The focus now is on the next steps in the European Parliament and Council. The financial services portfolio cuts across all policy areas. It is fundamental to European citizens, businesses, SMEs, and how the EU recovers from the Covid-19 pandemic. The EU Green Deal will require sustainable finance to drive actions across all sectors of the economy."
An Taoiseach, Micheal Martin, siad today:
"I congratulate her wholeheartedly on her selection. The Financial Services portfolio is a hugely significant one and I am very pleased that this post has been secured for the Commissioner designate."