McGuinness and McDowell Irish Nominees to EU Commission
The Irish Coalition Government have agreed to nominate Mairead McGuinness and Andrew McDowell as Ireland's representative on the EU Commission, this follows the resignation of Phil Hogan from the post following his decision to attend the Oireachtas Golf Society Dinner in August. Mairead McGuinness is currently a Member of the European Parliment for the Ireland Midlands-North-West constituency. Andrew McDowell is the former Vice-president of the European Investment Bank.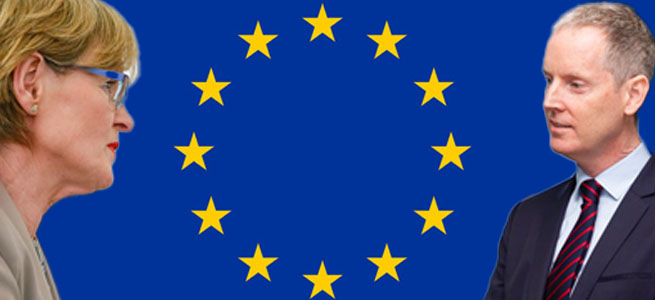 ---
Mairead McGuinness said today: "I want to thank the Taoiseach Micheál Martin, Tánaiste and Leader of my party, Leo Varadkar, and leader of the Green Party, Eamon Ryan, for this expression of confidence in me. It's a great honour to be nominated as a candidate for a role that is so influential in the lives of citizens and businesses across Ireland and the entire EU, as it is to serve as I do as First Vice-President of the European Parliament."
Andrew McDowell said on social media: "I'm honoured to be proposed as one of two Irish nominees for the EU Commission alongside Mairead McGuinness. I look forward to speaking to President Von Der Leyen next week about how I could contribute to a strong, fair and green recovery across the EU."
The Irish Government stated tonight (Friday, 4th September 2020)" both are candidates of the highest calibre, possessing the necessary competence, independence and European commitment to serve in the role of Commissioner with distinction."
In keeping with the provisions of the European Treaties, President von der Leyen will now consult with the European Parliament before the appointment of a new Commissioner is made by the Council, in common accord with the President of the Commission.