RTÉ New Season, Same Old, Same Old
There are flurries of RTÉ attempting to be down the the yuff, but largely the new season on RTÉ is a disappointment. Still RTÉ have failed to consider there remit to their audience. While, their commitment to Climate Change can be applauded it is just a function of their news output.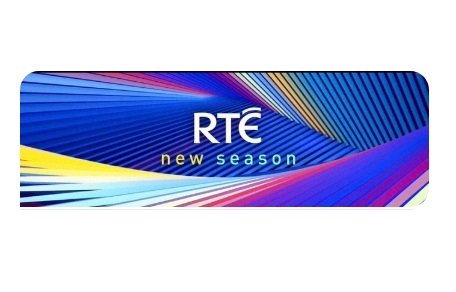 After that its down to Sport, RTÉ will host a range of sports from rugby to soccer and rowing to hockey, and now with AIB All-Ireland GAA Club Championships.
Jamie Heaslip, Donncha O'Callaghan and Michael Lynagh will be part of the Rugby World Cup Panel, along with Fiona Coughlan on the Commentary team.
RTÉ continue with news and current affairs with documentaries including Quinn Country, Redress Board and The Teenage Ambassadors. Because this is "one RTÉ" a host of Radio and TV shows that have been on their summer holidays return, with Claire Byrne and The Late Debate back on the air.
RTÉ will continue to focus on scripted drama... well Fair City is 30 years on the air. Dublin Murders, a BBC/Starz co-production, will help bring scripted drama in 2019 to 3 TV Dramas, but not to worry more drama in 2020 with Dead Still and The Young Offenders. While Comedy pilots filmed in 2018 will get set to air, while waiting to see if they actually get a full series.
Ray D'Arcy returns, as does The Late Late Show, Dancing with the Stars and Tommy Tiernan. Keith Barry magically reappears on RTÉ having been on Virgin Media a few years ago.
There slate of Young People's programming include Donnacha's Two Talented, Body Brothers, Ace My Space, Tir na nOg, Living with a Fairy 2, critters.tv, I'm starting Secondary School and Sherriff Street Salmon.... because RTÉ didn't cut funding to children's content!
Speaking at the launch, RTÉ Director-General Dee Forbes said: "Public service media has never been more important. Independent journalism, local stories, home-grown performers, writers and artists: these are what you will see in a diverse schedule which, across television, radio and online, demonstrates the breadth of what RTÉ delivers to Irish life, and underlines how important public service media is in reflecting who we were, who we are today, and where we're going."
RTÉ Director of Audience, Channels and Marketing, Adrian Lynch said: "What an exciting new season we have to look forward to. RTÉ's diverse content reaches over 90% of Irish audiences weekly across all its services. To be the home of the Irish rugby team, give a platform for younger voices as they participate in the Youth Assembly during RTÉ On Climate week, to engage Irish audiences with some of the biggest live entertainment shows, are all examples of our role in Irish life. RTÉ continues to deliver trusted journalism as well as shaping the nation with our impactful stories. This is RTÉ at its best."