GAA Broadcast Rights 2014 to 2017 Unveiled
The GAA have announced Broadcast rights for the next 4 years. GAA provide a total of 45 provincial and All-Ireland championship matches to Television. A total of 31 games will be provided to RTÉ. Sky will take the remaining 14 games, a move by the GAA into Pay TV, resulting in the loss of these games by TV3. The GAA and RTÉ Digital in a joint venture will provide online access on a basis around the world, while Channel 7 will broadcast all games free-to-air in Australia.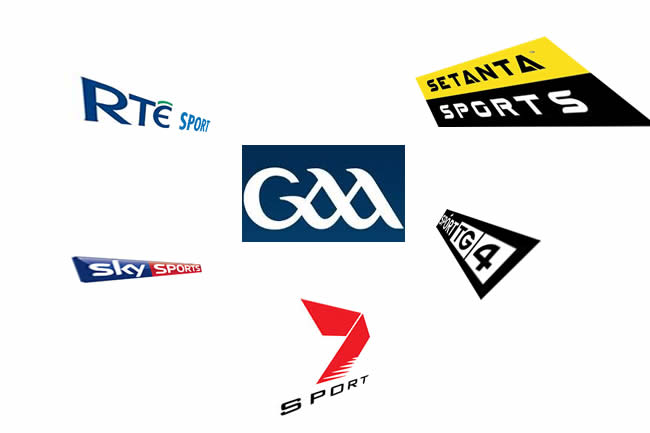 RTÉ will broadcast the All-Ireland finals and Semi-final in both Hurling and Football. RTÉ will also have access to the All-Ireland quarter-finals in Hurling, while retaining 2 of the 4 All-Ireland football quarter-finals. All provincial finals will be broadcast by RTÉ. BBC Northern Ireland will continue to provide coverage of the Ulster championship games.
Sky are to take over from TV3 with an exclusive Island of Ireland deal to 14 championships. It includes 8 Saturday evening matches, 2 All-Ireland Football quarter finals and 4 weekend evening matches.
Sky will also broadcast the Semi-final and finals, making 20 live games available across Ireland and Britain.
The games will all be broadcasting in HD.
TG4 are to continue to provide coverage of Allianz League matches, along with the Electric Ireland All-Ireland Minor Finals, the AIB Club Championship, the Irish Daily Mail Fitzgibbon and Sigerson Cups, Masita All-Ireland Post-Primary Schools competitions, the Cadbury U21 Football Championship, Bord Gáis Energy U21 Hurling Championship and county finals. TG4 will cover 62 live games and 22 deferred games each year for three years.
Setanta will continue to broadcast Saturday Evening Allianz League Games.
The domestic TV broadcast rights will see over 90 games shown free-to-air on RTÉ, BBC NI and TG4. Sky and Setanta will provide coverage of games as pay TV broadcasters, with Sky providing coverage of 20 games in Britain.
Channel 7 in Australia will show all 45 live championship games free-to-air.
The GAA and RTÉ Digital will give online access to all games to supporters living in the U.S. and worldwide, in a joint subscription venture.