BAI issues €4.5 million in TV and Radio comissions
The Broadcasting Authority of Ireland (BAI) has issued just under €4.5million to new Irish TV and Radio programmes. The Sound and Vision Fund is supported through the Television Licence Fee. 88 new radio projects and 21 TV projects were awarded funding out of 287 applications, with applications coming from 16 different genre/format categories. In total the TV projects will receive just under €4million, while radio project will receive just over €500,000.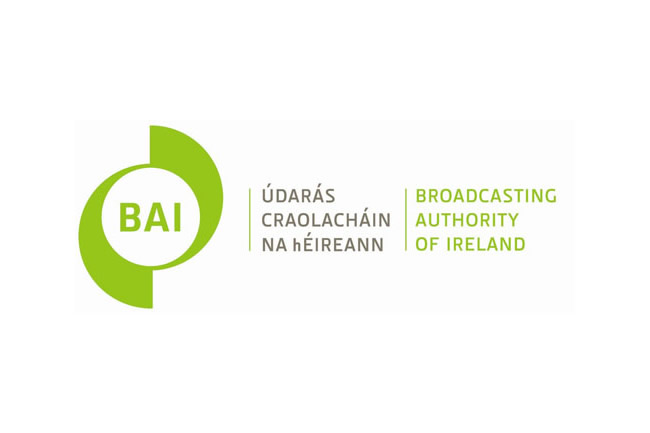 Television will be divided between Setanta Sports, RTÉ, TV3, TG4, CCTV and DCTV. Pay broadcaster Setanta Sport was awarded €221,000 from the fund. Commercial broadcaster TV3 was awarded €1,399,000, public broadcasters RTÉ and TG4 received €1,825,000 and €295,000 respectively, while Community TV channels CCTV and DCTV received €30,000 and €148,000 respectively.
In radio Community Radio received €238,234, RTÉ received €123,480, national broadcasters NewsTalk and TodayFM received €52,409.62 and local broadcasters received €123,480.

Speaking about the announcement, Michael O'Keeffe, Chief Executive of the BAI said "Round 19 of Sound & Vision marked a record in the number of applications received in any round of the Scheme to date. Today's announcement brings the total funding awarded in 2013 to in excess of €13.35m and the total number of projects supported to 342. As with previous rounds, the number of applications received was far in excess of funding available, and while the BAI was, fortunately, able to allocate funding above that indicatively set for this round, we are also conscious that there were a significant number of quality projects that did not receive funding support. Our approach to the funding rounds in 2014, which was announced in recent weeks, recognises the finite resources available next year and the need for the BAI to adopt its approach accordingly through the provision of two open rounds and one targeted round of the Scheme, focussing on animation and education."
The tables below list the TV and Radio productions awarded funding:-
| | | | | | |
| --- | --- | --- | --- | --- | --- |
| Producer | Production Company | Title | Channel | Format | Funding |
| Emma Bowell | Frameworks Films Limited | The Limerick Soviet | CCTV | Documentary | 30,000.00 |
| | | | | CCTV | 30,000.00 |
| Ciarán Moore | DCTV | We Love Dublin City | DCTV | Documentary | 75,000.00 |
| Ciarán Moore | DCTV | Festival TV 3: In the Neighbourhood | DCTV | Entertainment | 73,000.00 |
| | | | | DCTV | 148,000.00 |
| Anne Heffernan | Mind the Gap Films Limited | Holding Out for a Hero | RTÉ 2 | Entertainment | 330,000.00 |
| Stuart Switzer | Coco Television Productions Limited | Norah Casey's Traveller Business School  | RTÉ 2 | Entertainment | 280,000.00 |
| Ashlene Aylward | Lagan Media Productions | Oíche na Gaoithe Móire | RTÉ One | Documentary | 115,000.00 |
| John Murray | Crossing the Line Productions Limited | Ireland's Wild Cities | RTÉ One | Documentary | 300,000.00 |
| Rónán Ó muirthile | Animo Television | The Family Project Series 2 | RTÉ One | Documentary | 240,000.00 |
| Rory Lorton | Wildfire Films | A Grand Design: The National Gallery of Ireland Reborn  | RTÉ One | Documentary | 127,000.00 |
| Ruth Coady | Parallel Films Productions Ltd | BROOKLYN | RTÉ One | Drama | 300,000.00 |
| John Murray | Crossing the Line Productions Limited | Junior Wild Trials | RTÉjr | Education | 133,000.00 |
| | | | | RTÉ | 1,825,000.00 |
| Shane Tobin | Square One Productions Limited | Battle of Oriel Park  | Setanta Sports Ireland | Documentary | 76,000.00 |
| Stephen Smith | Midas Productions | The Donegal All Black | Setanta Sports Ireland | Documentary | 145,000.00 |
| | | | | Setanta | 221,000.00 |
| Grainne Mcguinness | Indee Productions  | Bia Linn 2 | TG4 | Education | 100,000.00 |
| Paddy Hayes | Magamedia Teo | Deoch an Dorais | TG4 | Documentary | 95,000.00 |
| Stephen Smith | Midas Productions | It Tolls For Thee | TG4 | Documentary | 100,000.00 |
| | | | | TG4 | 295,000.00 |
| John Kelleher | John Kelleher Media | Guaranteed! | TV3 | Drama | 275,000.00 |
| Lesley  Mckimm | Newgrange Pictures | My Name is Emily  | TV3 | Drama | 400,000.00 |
| Owen Mcardle | TV3 | Islanders | TV3 | Documentary | 203,000.00 |
| Paula Heffernan | Element Films | A Date For Mad Mary | TV3 | Drama | 400,000.00 |
| Triona Campbell | beActive International | The Stand Up's | TV3 | Documentary | 121,000.00 |
| | | | | TV3 | 1,399,000.00 |
| | | | | | |
| --- | --- | --- | --- | --- | --- |
| Producer | Production Company | Title | Station | Format | Funding |
| Mary Lennon | Athlone Community Radio | The Midtown Incident | Athlone Community Radio | Drama | 7,200.00 |
| Mary Lennon | Athlone Community Radio | Ciorcal Celtic | Athlone Community Radio | Education | 5,930.00 |
| Benen Tierney | Community Radio Castlebar | The Ollie Broadcasting Corporation: Stories from an Accidental Archive | Community Radio Castlebar | Documentary | 3,000.00 |
| Yvonne Smith | Community Radio Youghal | Keep It Going | Community Radio Youghal | Documentary | 10,600.00 |
| Yvonne Smith | Community Radio Youghal | Smile in a While | Community Radio Youghal | Documentary | 4,100.00 |
| Yvonne Smith | Community Radio Youghal | This is Our School Too | Community Radio Youghal | Entertainment | 5,200.00 |
| Grainne O'malley | Connemara Community Radio | Local Food Heroes | Connemara Community Radio | Documentary | 7,000.00 |
| Conor O'toole | Conor O'Toole | The Laneways of Medieval Cork | Cork Campus Radio | Documentary | 4,000.00 |
| John  Mcevoy | John McEvoy | Fancy That | Dublin City FM | Documentary | 4,300.00 |
| Vicky Britton | Dublin City FM | Barretstown and Beyond | Dublin City FM | Documentary | 3,000.00 |
| Regan Hutchins | Dublin City FM | Wake Up And Smell The Liffey! | Dublin City FM | Documentary | 2,808.00 |
| Gerard Counihan | Gerard Counihan | The Burning Of St Catherine's Church | Dublin City FM | Documentary | 1,995.00 |
| Sarah Lavin | Dublin South FM | Clubbing Together | Dublin South FM | Documentary | 7,680.00 |
| Paul Wright | Paul Wright | Saved From Doom- Uncovering The Dramatic Story Of How The English Quaker James H | Dublin South FM | Documentary | 4,865.00 |
| Jonathan De burca butler | Jonathan De Burca Butler | In the Shadow of the Gunmen - Arthur Griffith | Dublin South FM | Documentary | 4,000.00 |
| Sarah Lavin | Dublin South FM | From the Floozie in the Jacuzzi to the Stiletto in the Ghetto | Dublin South FM | Documentary | 2,900.00 |
| Sarah Lavin | Dublin South FM | 150 Years of the Dublin Horse Show | Dublin South FM | Documentary | 2,500.00 |
| Brian Ó tiomáin | Brian Ó Tiomáin | The Call | Dublin South FM | Drama | 7,300.00 |
| Alan Byrne | Dundalk FM | He Emigrated To Succeed | Dundalk FM | Documentary | 3,250.00 |
| Alan Byrne | Dundalk FM | The Golden Gates | Dundalk FM | Drama | 3,320.00 |
| Alan Meaney | Alan Meaney | Sound Conversations | Flirt FM | Documentary | 5,900.00 |
| Alan Meaney | Alan Meaney | When Harry Met Satan | Flirt FM | Drama | 6,300.00 |
| Brian Daly | Life FM | Polish Life in Cork – an in-depth insight of contemporary Polish life in Cork | Life FM | Documentary | 5,600.00 |
| Brian Daly | Life FM | The Role of Faith in Rehab programmes in Ireland | Life FM | Documentary | 5,600.00 |
| Tim Murphy | Life FM | Chronicles of Blarney Street | Life FM | Entertainment | 2,800.00 |
| Brian  Leyden | Brian Leyden | An Irish Station Mass | Mid West Radio | Documentary | 3,500.00 |
| Fiona Mcgarry | Fiona McGarry | Hives of Activity | Mid West Radio | Documentary | 2,395.00 |
| Paul Loughran | NEAR 90fm/Near TV | New Perspectives on Irish History | NEAR 90fm | Documentary | 13,900.00 |
| Paul Loughran | NEAR 90fm/Near TV | Gateway | NEAR 90fm | Documentary | 7,500.00 |
| Paul Loughran | NEAR 90fm/Near TV | An Irish Sanctuary: The History and Natural History of the North Bull Island | NEAR 90fm | Documentary | 5,800.00 |
| Paul Loughran | NEAR 90fm/Near TV | Local Club Football History | NEAR 90fm | Documentary | 5,500.00 |
| Paul Loughran | NEAR 90fm/Near TV | Language Jewels | NEAR 90fm | Documentary | 4,500.00 |
| Iain O'Connor | Phoenix FM | The Phoenix FM School Duel | Phoenix FM | Education | 10,000.00 |
| Iain O'Connor | Phoenix FM | Surviving... | Phoenix FM | Education | 5,000.00 |
| Sallyann Marron | Raidió Corca Baiscinn | Are Ye Coming Out To Play? | Raidió Corca Baiscinn | Documentary | 4,328.00 |
| Jason Murphy | Raidió Corca Baiscinn | Look outs on the Loop | Raidió Corca Baiscinn | Documentary | 2,831.00 |
| Derrick Lynch | Raidió Corca Baiscinn | On the Hunt | Raidió Corca Baiscinn | Documentary | 2,800.00 |
| Jason Murphy | Raidió Corca Baiscinn | Trail of Tears | Raidió Corca Baiscinn | Documentary | 2,700.00 |
| Jason Murphy | Raidió Corca Baiscinn | Artists in the Loop | Raidió Corca Baiscinn | Documentary | 2,640.00 |
| Julie Brosnan | Raidió Corca Baiscinn | Flora and Fauna of Loop Head | Raidió Corca Baiscinn | Documentary | 2,400.00 |
| Sallyann Marron | Raidió Corca Baiscinn | Turning The Turf | Raidió Corca Baiscinn | Documentary | 2,337.00 |
| Jason Murphy | Raidió Corca Baiscinn | Listening to the Loop | Raidió Corca Baiscinn | Entertainment | 3,500.00 |
| Emer Nic aodhain | Emer Nic Aodhain | Ón Chlochar go Cill Mhaighneáin | Raidió na Life | Documentary | 6,500.00 |
| Macdara Molloy | Macdara Molloy | Ar thóir De Hindeberg | Raidió na Life | Documentary | 4,870.00 |
| Anne Power | Tipperary Mid West Community Radio | 12 Festivals One Year | Tipperary Mid West Community Radio | Documentary | 13,500.00 |
| Anne Power | Tipperary Mid West Community Radio | Choirs, Bands and Pipin' Brass | Tipperary Mid West Community Radio | Documentary | 10,585.00 |
| | | | | Community | 238,234.00 |
| Christine O'connor | Siol Sceal Teoranta | Sound and Story | Galway Bay FM | Documentary | 19,500.00 |
| Garry Keane | Real Films Limited | The Moon is an Orange Triangle Part 2 | Highland Radio | Documentary | 18,000.00 |
| Monica Hayes | KCLR 96FM | For Barbara | KCLR 96FM | Documentary | 3,100.00 |
| Monica Hayes | KCLR 96FM | Kevin Gets the Wrong End of the Stick | KCLR 96FM | Entertainment | 4,670.00 |
| Diarmuid Mcintyre | Grey Heron Media | Limerick 2014 As it Lives and Breathes | Limerick's Live 95FM | Documentary | 12,250.00 |
| Colm  Corrigan | Colm Corrigan | 'Yorkshire's Louthman' - the Richard Fahey story | LMFM | Documentary | 4,000.00 |
| Aisling Heraughty | Ocean FM | The Butcher Molloy | Ocean FM | Drama | 10,000.00 |
| Aisling Heraughty | Ocean FM | Walk this Way | Ocean FM | Education | 16,100.00 |
| Aisling Heraughty | Ocean FM | The Good Life | Ocean FM | Entertainment | 8,300.00 |
| Connie Broderick | Keeshla Communications Ltd. | '100 Years of Valentia Radio' | Radio Kerry | Documentary | 3,500.00 |
| Connie Broderick | Keeshla Communications Ltd. | Four Sundays to Liam | West Limerick 102 | Documentary | 3,660.00 |
| Connie Broderick | Keeshla Communications Ltd. | Rathfredagh; A Home Away from Home | West Limerick 102 | Documentary | 2,100.00 |
| Joe Mcgill | West Limerick 102 | The Cow Doctor | West Limerick 102 | Documentary | 2,000.00 |
| Joe Mcgill | West Limerick 102 | 'Logainmneacha; Know where you come from to know where you're going' | West Limerick 102 | Documentary | 1,800.00 |
| Mark Power | WLR fm | A History of Waterford in 20 Objects | WLR FM | Documentary | 10,000.00 |
| Orla Rapple | Orla Rapple | Made in Waterford | WLR FM | Documentary | 4,500.00 |
| | | | | Local | 123,480.00 |
| Trevor Dann | Trevor Dann's Company Ltd | The Pirate Port | Newstalk 106-108FM | Documentary | 6,000.00 |
| Angie Mezzetti | Ocarina Limited | Leading Women | Newstalk 106-108FM | Documentary | 5,200.00 |
| Caoilin Rafferty | Caoilin Rafferty | Transporters | Newstalk 106-108FM | Documentary | 4,500.00 |
| Patricia Baker | Curious Broadcast Limited | The Frozen Zoo  | Newstalk 106-108FM | Documentary | 4,200.00 |
| Luke Mcmanus | Luke McManus | Doyle, Foley, Moran & Moriarty  | Newstalk 106-108FM | Documentary | 4,000.00 |
| John Verling | John Verling | We Can We Must and We Will | Newstalk 106-108FM | Documentary | 3,880.00 |
| Judy-Meg Ní chinnéide | Judy-Meg Ní Chinnéide | Turas: Learning Irish in East Belfast (Working Title) | Newstalk 106-108FM | Documentary | 3,529.62 |
| Caoilin Rafferty | Caoilin Rafferty | Staying Home | Newstalk 106-108FM | Documentary | 3,500.00 |
| Shay Linehan | Shay Linehan | Goin' Straight | Newstalk 106-108FM | Drama | 7,600.00 |
| Mary Carroll | Mary Carroll | Charity Begins at Home | Today FM | Documentary | 10,000.00 |
| | | | | National | 52,409.62 |
| James Keating | RTÉ | Ard Rí | RTÉ Junior/Chill | Drama | 9,100.00 |
| Sinead Mcclure | All Points West Radio Productions | Squirrel at the Zoo | RTÉ Junior/Chill | Education | 14,000.00 |
| Hannah Masterson | RTÉ | Nora agus Dora | RTÉ Junior/Chill | Education | 4,000.00 |
| Diarmuid Mcintyre | Grey Heron Media | Limerick 2014 Cultural Passions | RTÉ Lyric FM | Documentary | 11,550.00 |
| Doireann Ní bhriain  | Doireann Ní Bhriain t/a Fuaim Productions | Who Was Vere Foster | RTÉ Lyric FM | Documentary | 7,196.00 |
| Ruth Fitzsimons | Smooth Operations (Productions) Limited | The Scandal of Mrs Leeson - Final | RTÉ Lyric FM | Documentary | 4,500.00 |
| John Murray | Crossing the Line Productions Limited | Nature On One - Ireland's Wild People | RTÉ Radio 1 | Documentary | 20,000.00 |
| Claire Cunningham | Rockfinch Limited | History on a Plate | RTÉ Radio 1 | Documentary | 17,900.00 |
| Kevin Brew | RTÉ | Lighthouse Stories Round 19 | RTÉ Radio 1 | Documentary | 10,500.00 |
| Siobhán Lynam | Siobhán Lynam | The Irish Woman Who Shot Mussolini | RTÉ Radio 1 | Documentary | 9,200.00 |
| Joe Kearney | Joe Kearney t/a Doc-Doc Productions | The Grandfather Canoe | RTÉ Radio 1 | Documentary | 7,500.00 |
| Robert  Mulhern | Robert Mulhern | Sean Mannion: Forgotton Fighter | RTÉ Radio 1 | Documentary | 6,200.00 |
| Kevin Brew | RTÉ | Volunteers by Gary Mitchell Round 19 ReSubmission | RTÉ Radio 1 | Drama | 11,771.00 |
| Kevin Brew | RTÉ | Quartet by Thomas McLaughlin Round 19 | RTÉ Radio 1 | Drama | 11,000.00 |
| Cathal Black | Nightingale Films Limited | Jumping Hedges | RTÉ Radio 1 | Drama | 9,100.00 |
| Máiréad Uí dhomhnaill | Mairead Uí Dhomnaill t/a Cinnidi | Dartstáisiún | RTÉ RnaG | Drama | 3,650.00 |
| | | | | RTÉ | 157,167.00 |