Live Register Down 1,800 in March 2014
The Central Statistics Office (CSO Ireland) have release their monthly unemployment figures. The new figures suggest a decrease for those signing on in March 2014. A total of 396,900 people were signing on in March, representing an annual decrease of 33,856 or 8%. The unemployment rate in March 2014 was 11.8%, down from 11.9% in February 2014.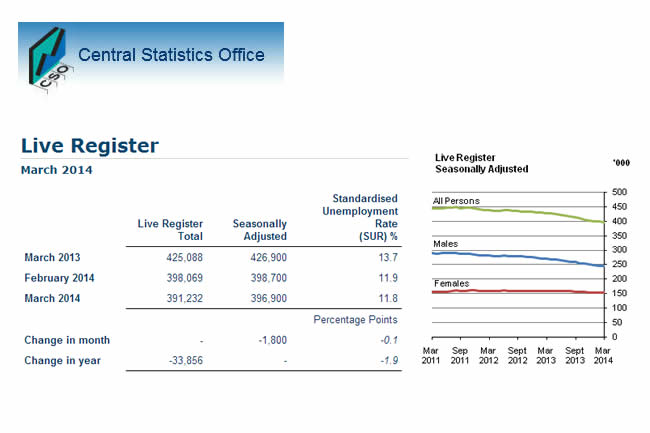 The Quarterly National Household Survey has yet to be completed for this quarter (Jan to Mar), however the last Quarter of 2013 showed an unemployment rate of 12.1%.
The majority of claimants were male with a total of 243,189. There were 148,043 female claimants in March 2014. Men were more likely to find work with a yearly decrease of 9.6%, while the decrease for women was 5.2%. 
There were 25,157 new registrations in March 2014. Males made up 55.6% of the new claims or 13,990. The average number of new claims each week was 3,498 for men and 2,792 for women.
Long term unemployed are considered as those signing on for more than one year. The total of long term unemployed was 179,335. 54.2% of all claims were short term.
There were 79,811 part-time/casual workers on the live register in March 2014, or 20.4% of the total number of signees.
Under 25s make up 15% of the live register, seeing a decrease from 15.7% in March 2013.