Worzel Gummidge Returns to BBC
Worzel Gummidge is to return to the BBC in two hour long films. The films will air on BBC One. The series is inspired by the classic Barbara Euphan Todds character. Mackenzie Crook will star as the scarecrow, and will also take up writting and directing the films. The films have been commissioned by Shane Allen, Controller Comedy Commissioning for the BBC, and Charlotte Moore, Director of Content for the BBC. Leopard Pictures are partnering with Treasure Trove Productions and Lola Entertainment to produce the films.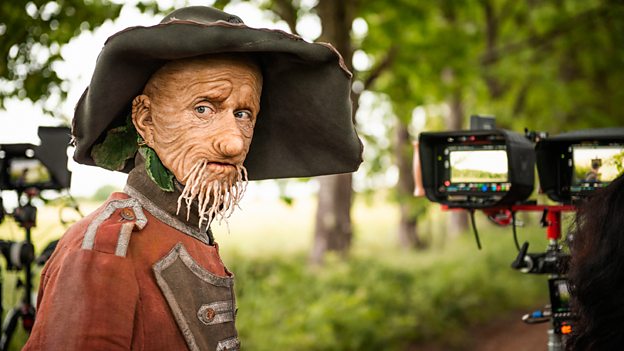 Above you can see the new look Worzel, who may cause a stir on social media, far removed from the 1970s/1980s Jon Pertwee version.
The Scarecrow Of Scatterbrook is the first of the two films. Susan and John have just recently arrived in Scatterbrook and soon meet with Worzel Gummidge the Scarecrow of Ten Acre Field. Soon they realise that Gummidge comes to life, but Gummidge is more surprised to learn that they are not also Scarecrows but human children.
Humans should never connect with Scarecrows, but the seasons have stopped and the harvest hasn't arrived. The rhythm of the natural world is out of kilter and this unlikely trio must try to put it right.
The Green Man is the second of the two films. The Green Man is the creator of scare crows and the keep of their lore. Hes furious with Worzel for consorting with humans.
Mackenzie Crook says: "I'm thrilled to be back working with the BBC and many members of the Detectorists team to bring Worzel Gummidge to a new generation of viewers and reintroduce him to old friends. Adapting Barbara Euphan Todd's books into these two films has been a joy and I've completely fallen for her charming, irreverent scarecrow. Fingers crossed for a glorious English summer as we head out to Scatterbrook Farm and Worzel's Ten Acre Field."
Shane Allen, Controller Comedy Commissioning at the BBC, says: "Mackenzies widely adored and multi-Bafta award winning Detectorists was a grown up love letter to bucolic England and with Worzel he takes a similar approach to English folklore, rural rites and the magic of childhood. His visionary and fundamental reinterpretation of this classic is that rare and special achievement - a BBC One family friendly comedy."
Kristian Smith, Executive Producer for Leopard Pictures, says: "These two specials are real treat pieces for a family audience. There was nobody other than Mackenzie that I wanted to work with on this. The vision and creativity of this man is awesome. He has written two beautiful scripts that are clever, warm and funny. And once again he has attracted a formidable cast of tremendous actors. We are so excited to be able to bring these new Worzel Gummidge stories to everybody."