Ransom VMT TWO 21:00:00 -23:00:00
VMT TWO 23:30:00 -01:30:00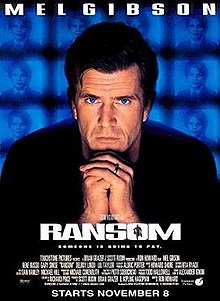 Ransom is a 1996 American crime thriller film directed by Ron Howard and written by Richard Price and Alexander Ignon. The film stars Mel Gibson, Rene Russo, Gary Sinise, Brawley Nolte, Delroy Lindo, Liev Schreiber, Evan Handler, Donnie Wahlberg, and Lili Taylor. Gibson was nominated for a Golden Globe Award for Best Actor. The film was the 6th highest-grossing film of 1996 in the United States. The original story came from a 1954 episode of The United States Steel Hour titled "Fearful Decision". In 1956, it was adapted by Richard Maibaum and Cyril Hume into the feature film Ransom!, starring Glenn Ford, Donna Reed, and Leslie Nielsen. The film was also influenced by Ed McBain's police procedural novel King's Ransom.