New Look RTÉ News mixed up
Over the past two weeks RTÉ have revamped the main RTÉ news programmes and their app RTÉ News Now. Both are cleaner than the previous rebrand which occurred in 2009. This is not an unusual exercise, to see a TV service update their website, news graphics and mobile apps on a cyclical basis. Strange that each of the changes took place at different times and announced at different press events.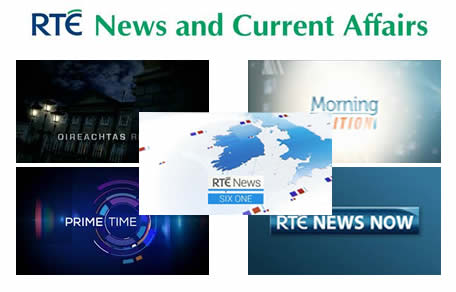 The RTÉ News website was redeveloped a few months ago, providing easier access to video on demand, and some blogs from its main correspondents.
Just last week, in the Prime Time studios, a new look and updated version of the RTÉ News Now app was also launched by RTÉ Digital. The new update provides what RTÉ title "Your News Now".
And, what seems like a final move, RTÉ News got a small redesign giving the news an update and a fresher look.
All of these things are welcome. Audiences get bored of the same look so titles, sets and inter-titles are part and parcel of the media (TV, press and the internet).
However, RTÉ News and Current Affairs might have better off announcing each of these changes in one go, instead of the piecemeal manner the changes were announced. In terms of branding RTÉ News and Current Affairs is very mixed up.
Programmes using the News Studio are now inconsistent.
The re-brand of The Week In Politics was lacklustre, with dark greens replacing a nicely worked inter-title (though it was in need of a lick of paint as it was the same title used since at least 1999).
The new late morning news programme Morning Edition hasn't had the same make over as the rest of RTÉ News, it is left with titles that are remnants of the old RTÉ News look.
The uber sexy Prime-Time studio shines, while Oireachtas Report remains pre-record from outside the Houses of the Oireachtas, looking and feeling Prime Time's uglier long lost relative.
And then there is RTÉ News Now (TV). It hasn't changed since its "full" launch in 2011. The RTÉ News Now (TV) graphic is the 2009 RTÉ News graphic, its blue tones fit with none of the other RTÉ News programmes. While its jumble of on screen graphics are a distraction, even for those at Airports around the country. As a linear TV channel it lacks any type of real schedule, while failing to repeat any of the Sports News programming from RTÉ Sport.