Eircode Name, Logo and Website Launched
Minister for Communications, Pat Rabbitte T.D. today launched 'Eircode', the new name for postalcodes in Ireland. This is one of the most important parts of the development of the Irish Postal Code system, it is brought together by the launch of a Logo and a Website.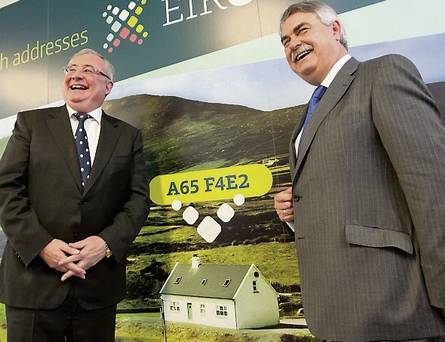 At the launch in Dublin this morning he said "A publicly-owned postcode system is a key piece of modern national infrastructure". The new postalcode system will be run by contract winners Capita, a private company.
According to the minister "The Eircode brand and design are tangible signs of the considerable amount of work that Capita ...... have done over the last number of months."
It is expect that every Irish household will receive their own unique 7 digit Postalcode sometime in the spring of 2015. Rural dewellers won't feel as left out as their urban cousins as many of those in rural areas get lost on the way home as 30% of them don't have a unique address.
The minister also pointed out how he didn't "recall the Revenue Commissioners ever failing to do their job because they haven't been able to find a house", indeed the Revenue Commissions have a separate unique 10 digit property identity code, developed in 2013 when the property tax was introduced.
This is just some of the €25million being spend by the government on this project, the rest is to be spent over the next 10 years. The Department has been working on these development for the last 10 years the culmination of these efforts are a new name, logo and website.