Irish Sprouts This Christmas
The promotion of Irish food this Christmas continues as the Brussels Sprouts are into harvest. Demand over the coming weeks will increase for the traditional vegetable on most Christmas dinners. With one north county Dublin farmer saying that 33% of the total crop will be harvested during the month of December to meet the demand. Minister of State, Tom Hayes, at the Department of Agriculture visited Enda Weldon's farm in north County Dublin this week as part of a wider promotion of the consumption Irish vegetables by Irish consumers.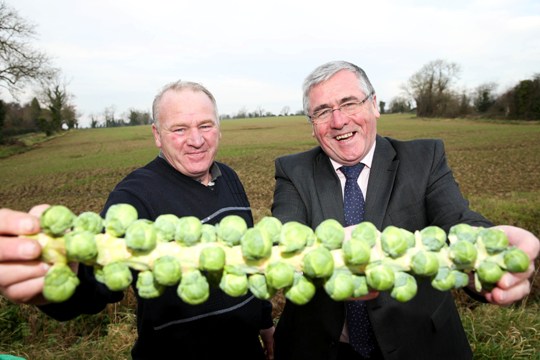 Minister Hayes said "given the good weather over recent months there was a strong supply of excellent quality Irish seasonal fresh field vegetables available at present including parsnips, carrots, cauliflower, cabbage and swedes as well as the "Christmas season sprouts".
The Weldon farm is one of the largest specialised sprout producers in Ireland. They will cool, grade and pack all sprouts to be ready on supermarket shelves within 24 hours of harvest. In the 10 days run up to Christmas the Weldon's are working 24 hours every day to meet the demand. December sales determine the year's overall profitability for Irish sprout producers.
Sprouts are packed with nutrients and this year they will be sweeter than normal due to the high level of sunshine over the last few months. Sprouts are a great source of glucosinolates, folic acid, iron and Vitimin C.
The Weldon family produce 13 million Brussels Sprouts or 400 tonnes every year. 30 people work with the Weldon's in December just to harvest and prepare the sprout crop for the consumer at Christmas time.