Fifteen To One to Return to Channel 4
Channel 4's hit quiz show Fifteen to One is to return to Channel 4. Remedy Productions has been commissioned by Madeleine Knight, Channel 4's head of Entertainment, to produce a new run of the series. The original series ended in 2003. A celebrity special was produce for Channel 4's 1980s night hosted by Adam Hill, he is set to return for more celebrity specials. The main series will be hosted by Sandi Toksvig for 20 episodes which will move to daytime.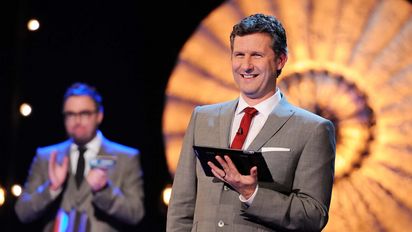 The series was originally hosted by William G. Stewart and produced by Regent Productions.
Series producers are currently looking for contestants so if you think your a celebrity! <<<<< joke if you think your brainy enough then apply to 15to1apps@remedyproductions.tv closing date for applications is January 17th 2014.
Adam Hills said: "I am thrilled to be part of the ongoing institution that is Fifteen To One. The celebrity specials combine two of my favourite things - general knowledge questions, and the chance to watch well-known people try not to make dicks of themselves in public"
Sandi Toksvig added: "I'm thrilled to be taking up the mantle of hosting Fifteen To One. It is a legendary quiz show with tough questions. I'm glad I'll be asking not answering. I'm also delighted to be back at Channel 4."
Madeleine Knight said: "We're delighted to have such a beloved show back on Channel 4. Auditions are touring the country soon to find Britain's smartest quiz minds to battle for the title of Fifteen To One champion."
Remedy Productions' Chief Creative officer and Executive Producer, Tom Blakeson said: "It's fantastic to be making more Fifteen To One for Channel 4 following the success of the celebrity special earlier this year. We're really looking forward to introducing a whole new generation to this compelling format and, with Adam and Sandi, we're delighted to have two brilliant and very funny hosts on board."